Founded in the 11th century and magnificently decorated in the Baroque period, Ossiach Abbey lies on the shores of Lake Ossiach amidst the romantic mountain world of Carinthia, Austria's southernmost province. It was here that the Carinthian Summer was founded in 1969, which has since become one of the most prestigious Austrian music festivals. Since 1972 Villach, the Carinthian city with the most Mediterranean character, has been the festival's "second home".
The unique atmosphere of the Carinthian Summer with its diverse venues captivates artists and audiences from all over the world every year in July and August. Claudio Abbado, Aigul Akhmetshina, Benjamin Appl, Leonard Bernstein, Karl Böhm, Yefim Bronfman, Grace Bumbry, Montserrat Caballé, José Carreras, René Clemencic, Alma Deutscher, Christoph von Dohnányi, Wladimir Fedossejew, Bernarda Fink, Ádám Fischer, Sir James Galway, Bruno Ganz, Sir John Eliot Gardiner, Nicolai Gedda, Valery Gergiev, Emil Gilels, Martin Grubinger, Hilary Hahn, Hans and Martin Haselböck, Michael Heltau, Cyprien Katsaris, Lukas Kranzelbinder, Gidon Kremer, Elisabeth Leonskaja, Marjana Lipovšek, Lorin Maazel, Oleg Maisenberg, Mischa Maisky, Sir Neville Marriner, Zubin Mehta, Tobias Moretti, Riccardo Muti, Sir Roger Norrington, David Oistrakh, Seiji Ozawa, Boris Pergamenschikow, Markus Poschner, Will Quadflieg, Ruggero Raimondi, Carole Dawn Reinhart, Katia Ricciarelli, Mstislaw Rostropowitsch, Peter Schreier, Horst Stein, Henryk Szeryng as well as the most distinguished international ensembles and orchestras.
Since 1974 a church opera has been an integral part of the event programme, often written as a commission especially for the Carinthian Summer. Following in the footsteps of Helmut Wobisch, Gerda Fröhlich and Thomas Daniel Schlee, Holger Bleck has been the Artistic Director of the Carinthian Summer since 1 January 2016.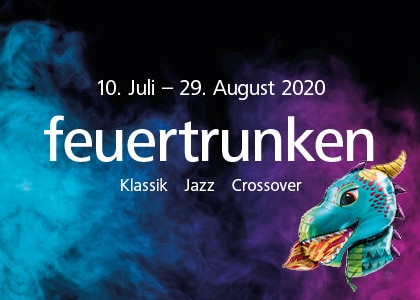 2020
Festivaleröffnung
Fr 10.7.2020 / 19.30 Uhr
Ossiacher See Halle
WJO und Martin Grubinger
Sa 11.7.2020 / 11.00 Uhr
Ossiacher See Halle
CS unterwegs mit Klakradl
Sa 11.7.2020, Sa 18.7.2020, Sa 8.8.2020
verschiedene Spielorte
Vienna Reed Quintet
Mo 13.7.2020 / 19.30 Uhr
Alban Berg Konzertsaal
Lieder aus Kärnten und Slowenien
So 19.07.2020 / 19.30 Uhr
Ossiacher See Halle
Sonntagsmesse
So 26.07.2020 / 10 Uhr
Stiftskirche Ossiach
Benjamin Schmid
Sa 1.8.2020 / 19.30 Uhr
Congress Center Villach
Tjeknavorian, Fliedl und Kromer
Mo 3.8.2020 / 19.30 Uhr
Congress Center Villach
Rudolf Buchbinder
Do 6.8.2020 / 19.30 Uhr
Congress Center Villach
New Austrian Sound of Music
Mi 12.8.2020 / 19.30 Uhr
Ossiacher See Halle
Bach Consort Wien – Sarabanda
Mo 17.8.2020 / 19.30 Uhr
Alban Berg Saal
Kirchen-Filmoper – Jeanne d'Arc
Do 20.8.2020 / 19.30 Uhr
Stadthalle Villach
Tonč Feinig, RTV Slovenia Big Band
Do 27.8.2020 / 19.30 Uhr
Ossiacher See Halle
Beethoven: Sinfonie Nr. 9
Sa 29.8.2020 / 19.30 Uhr
Ossiacher See Halle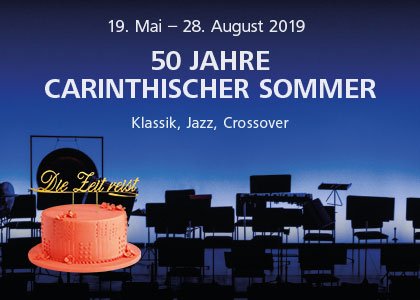 2019
Auf der Pirsch
So 19.5.2019 / 11 Uhr
Jagdsaal im Schloss Wolfsberg
Er und Sie
So 23.6.2019 / 11 Uhr
Klosterruine Arnoldstein
Gesangswettbewerb: Vorrunden
Di 2.7. – Fr 5.7.2019 / ab 10 Uhr
Congress Center Villach
Festkonzert 50 Jahre CS
Fr 5.7.2019 / 20 Uhr
Stiftskirche Ossiach
Lukas Kranzelbinder & Friends
Sa 6.7.2019 / ab 20 Uhr
Open-Air-Konzert in der Villacher Brauerei
Eröffnung: Begrüßung & Festakt
So 7.7.2019 / 17.30 & 18 Uhr
Congress Center Villach
Eröffnung: Gala-Konzert
So 7.7.2019 / 20 Uhr
Congress Center Villach
The Dowland Séance
Do 11.7.2019 / 20 Uhr
Stiftskirche Ossiach
Ö1 Klassik-Treffpunkt
Sa 13.7.2019 / 10.05 – 11.35 Uhr
Congress Center Villach
Zwei Geiger – eine Zeitreise
So 14.7.2019 / 11 Uhr
Das Klösterle bei Innerteuchen
Winterreisen
So 14.7.2019 / 20 Uhr
Alban Berg Konzertsaal Ossiach
KLOPF KOPF TOPF
Di 16.7.2019 / 16 Uhr
Foyer im Congress Center Villach
NASOM
Do 18.7.2019 / 20 Uhr
Bergkirche Tiffen
Altenberg Trio
Di 23.7.2019 / 20 Uhr
Stiftskirche Ossiach
Aigul Akhmetshina
Do 25.7.2019 / 20 Uhr
Stiftskirche Ossiach
Johannes Zeinler
Sa 27.7.2019 / 21 Uhr
Stadtpfarrkirche St. Jakob Villach
Metropolitan Youth Symphony
Mo 29.7.2018 / 20 Uhr
Congress Center Villach
You promised me poems
Do 1.8.2019 / 20 Uhr
Domenig Steinhaus
Picknick-Konzerte
Sa 3.8.2019 / 11 Uhr
Schloss Damtschach
Ensemble CASTOR
So 4.8.2019 / 20 Uhr
Evangelische Kirche im Stadtpark Villach
Prisma Wien
Mo 5.8.2019 / 20 Uhr
Stiftskirche Ossiach
Fazıl Say & Minetti Quartett
Di 6.8.2019 / 20 Uhr
Stiftskirche Ossiach
Rudolf Buchbinder
Do 8.8.2019 / 20 Uhr
Congress Center Villach
Reina del Cid
Fr 9.8.2019 / 20 Uhr
Omya GmbH Werk Gummern
Iveta Apkalna
Sa 10.8.2019 / 20 Uhr
Klagenfurter Dom
Emmanuelle Bertrand
Mi 14.8.2019 / 20 Uhr
Stiftskirche Ossiach
Divertimento
So 18.8.2019 / 11 Uhr
Schloss Manndorf
Wiener Sängerknaben
Mo 19.8.2019 / 20 Uhr
Stiftskirche Ossiach
Open-Air-Kino
Mi 21.8.2019 / 20.45 Uhr
Innenhof der Musikschule Villach
There's no clock in the forest
Sa 24.8.2019 / 17 Uhr
Schloss Damtschach
Kärntnerlieder alt und neu
Mo 26.8.2019 / 20 Uhr
Domenig Steinhaus
Time travels
Di 27.8.2019 / 20 Uhr
Bambergsaal Villach
City of Birmingham Symphony Orchestra
Mi 28.8.2019 / 20 Uhr
Congress Center Villach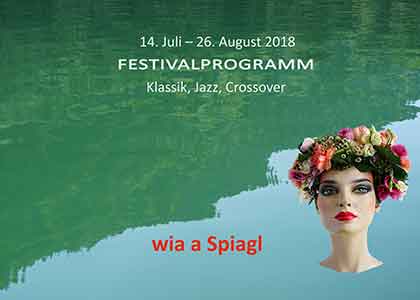 2018
Carinthischer Musiksalon (1)
So 17.6.2018 / 11 Uhr
Gut Schmelzhofen
Carinthischer Musiksalon (2)
So 1.7.2018 / 11 Uhr
Klosterruine Arnoldstein
Sonntagsmessen
29.7., 5.8., 19.8.2018 / 10 Uhr
Stiftskirche Ossiach
Festakt
Sa 14.7.2018 / 18 Uhr
Alban Berg Konzertsaal Ossiach
Carinthische Wassermusik
Sa 14.7.2018 / 21.20 Uhr
Ossiacher See
A House Full of Music
Di 17.7.2018 / 11 & 16 Uhr
Congress Center Villach
La Venexiana – Round M
Mi 18.7.2018 / 20 Uhr
Stiftskirche Ossiach
Sebastian Bru & Stefan Stroissnig
Do 19.7.2018 / 20 Uhr
Stiftskirche Ossiach
MIAGI Youth Orchestra
Fr 20.7.2018 / 20 Uhr
Congress Center Villach
Barucco – Alexander's Feast
Sa 21.7.2018 / 20 Uhr
Basilika Maria Loreto St. Andrä
Unterbiberger Hofmusik
So 22.7.2018 / 20 Uhr
Villacher Brauerei
Emmanuel Tjeknavorian & Maximilian Kromer
Mo 23.7.2018 / 20 Uhr
Stiftskirche Ossiach
Shreefpunk
Di 24.7.2018 / 20 Uhr
Arkadenhof der Domkirche St. Andrä
Profeti della Quinta
Mi 25.7.2018 / 20 Uhr
Bergkirche Tiffen
KSO & Aigul Akhmetshina
Do 26.7.2018 / 20 Uhr
Congress Center Villach
Trio Catch – Ohrknacker
Sa 28.7.2018 / 11 Uhr
Congress Center Villach
Trio Catch
Sa 28.7.2018 / 20 Uhr
Congress Center Villach
Der Doppelgänger – DVOINIK
Mo 30.7.2018 / 20 Uhr
Alban Berg Konzertsaal Ossiach
Benjamin Appl & Graham Johnson
Di 31.7.2018 / 20 Uhr
Stiftskirche Ossiach
chuffDRONE / Á.Tröndle & P. Corvino Quintett
Do 2.8.2018 / 20 Uhr
Alban Berg Konzertsaal Ossiach
Picknick-Konzerte
Sa 4.8.2018 / 11 Uhr
Schloss Damtschach
Ensemble Prisma
Mo 6.8.2018 / 20 Uhr
Stiftshof Ossiach
Rudolf Buchbinder
Di 7.8.2018 / 20 Uhr
Congress Center Villach
Ebonit Saxophone Quartet
Mi 8.8.2018 / 20 Uhr
Domenig Steinhaus
Händels Neun Deutsche Arien
Do 9.8.2018 / 20 Uhr
Stiftskirche Ossiach
Balbina
Fr 10.8.2018 / 20 Uhr
Omya GmbH Werk Gummern
Art of Guitar in Move
Sa 11.8.2018 / 20 Uhr
Alban Berg Konzertsaal Ossiach
Lebenszeichen mit VieVox
Di 14.8.2018 / 20 Uhr
Domenig Steinhaus
Nathan der Weise
Mi 15.8.2018 / 21.15 Uhr
Stadtpfarrkirche St. Jakob Villach
NeoBarock
Do 16.8.2018 / 20 Uhr
Evangelische Kirche Villach
Freibühne! Klagenfurt
Fr 17.8.2018 / 14 Uhr
Rathausplatz Villach
Wiener Sängerknaben
Mo 20.8.2018 / 20 Uhr
Neuer Rathaussaal St. Andrä
Jazz Formationen im Duo
Di 21.8.2018 / 20 Uhr
Bergkirche Tiffen
Jazz Quintett & e c h o boomer 7
Mi 22.8.2018 / 20 Uhr
Bambergsaal Villach
ORF RSO Wien & Anika Vavic
Do 23.8.2018 / 20 Uhr
Congress Center Villach
Olivier Latry
Sa 25.8.2018 / 20 Uhr
Klagenfurter Dom
Carinthischer Musiksalon (3)
So 26.8.2018 / 11 Uhr
Schloss Unterloibl
Carinthischer Musiksalon (4)
So 30.9.2018 / 11 Uhr
Schloss Ebenau / Galerie Walker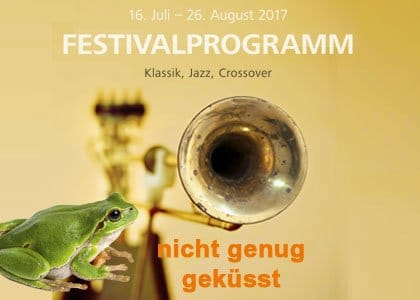 2017
Carinthischer Musiksalon (1)
So 7.5.2017 / 11 Uhr
Schloss Wolfsberg
Sonntagsmessen
23.7., 6.8., 13.8.2017 / 10 Uhr
Stiftskirche Ossiach
CS underground
Sa 15.7.2017 / ab 20 Uhr
Villacher Brauerei
Festakt
So 16.7.2017 / 17.30 Uhr
Congress Center Villach
Alma Deutscher & WKO
So 16.7.2017 / 20 Uhr
Congress Center Villach
Acies Quartett
Mo 17.7.2017 / 20 Uhr
Stiftskirche Ossiach
Marko Simsa – Das bunte Kamel
Di 18.7.2017 / 16 Uhr
Foyer im Congress Center Villach
Sjaella
Mi 19.7.2017 / 20 Uhr
Bergkirche Tiffen
Iiro Rantala & Ulf Wakenius
Do 20.7.2017 / 20 Uhr
Congress Center Villach
Ensemble CASTOR
Sa 22.7.2017 / 20 Uhr
Stiftskirche Ossiach
Cuarteto Casals
So 23.7.2017 / 20 Uhr
Stiftskirche Ossiach
Wiener Sängerknaben
Mo 24.7.2017 / 20 Uhr
Stiftskirche Ossiach
Kirchenoper Hemma
27.7., 29.7., 30.7., 2.8., 3.8.
Ossiach & St. Andrä
Songlines 17
Fr 28.7.2017 / 18 Uhr
Stift Ossiach
Rudolf Buchbinder
Mo 31.7.2017 / 20 Uhr
Congress Center Villach
Agnes Palmisano & Spafudla
Di 1.8.2017 / 20 Uhr
Alban Berg Konzertsaal Ossiach
Lebenszeichen – Neue Lieder
Fr 4.8.2017 / 20 Uhr
Domenig Steinhaus
Suns and Daughters
So 6.8.2017 / 17 Uhr
Schloss Damtschach
Kärntner Sinfonieorchester
Di 8.8.2017 / 20 Uhr
Congress Center Villach
Klemens Marktl Sextet
Mi 9.8.2017 / 20 Uhr
Alban Berg Konzertsaal Ossiach
Die Martha im Koffer
Do 10.8.2017 / 16 Uhr
Foyer im Congress Center Villach
Ensemble Variances
Fr 11.8.2017 / 20 Uhr
Stiftskirche Ossiach
Unterbiberger Hofmusik
Sa 12.8.2017 / 20 Uhr
Congress Center Villach
Shani Diluka
So 13.8.2017 / 20 Uhr
Stiftskirche Ossiach
The Cameraman
Mo 14.8.2017 / 20.45 Uhr
Innenhof der Musikschule Villach
L. Kranzelbinder & Shake Stew
Di 15.8.2017 / 20 Uhr
Bambergsaal Villach
R. Monteiro mit Spat'sonore
Do 17.8.2017 / 20 Uhr
Domenig Steinhaus
SVÄNG
Fr 18.8.2017 / 20 Uhr
Omya GmbH Werk Gummern
Picknick-Konzerte
Sa 19.8.2017 / ab 11 Uhr
Schloss Damtschach
Carinthischer Musiksalon (3)
So 20.8.2017 / 11 Uhr
Schloss Hallegg
Christoph Denoth
Di 22.8.2017 / 20 Uhr
Bergkirche Tiffen
dolce risonanza & Cinquecento
Mi 23.8.2017 / 20 Uhr
Evangelische Kirche Villach
M. Poschner & OSI – Brahms 1
Do 24.8.2017 / 20 Uhr
Congress Center Villach
M. Poschner & OSI – Brahms 2
Sa 26.8.2017 / 20 Uhr
Congress Center Villach
Carinthischer Musiksalon (4)
So 3.9.2017 / 11 Uhr
Schloss Pöckstein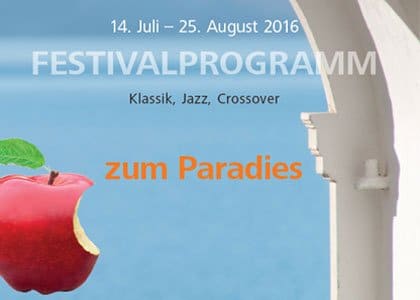 2016
Symposium: G. v. Einem
Mo 9.5.2016 / 9.30 Uhr
Musikverein Wien
Carinthischer Musiksalon
So 15.5.2016 / 11 Uhr
Schloss Pöckstein
Symposium: Wassermusik
Do 9.6.2016 / 15 Uhr
Kärntner Landesarchiv Klagenfurt
Festivaleröffnung
Do 14.7.2016 / 18 u. 21.15 Uhr
Ossiach
Sonntagsmessen
So 17. u. 24.7, 14.8. / 10 Uhr
Stiftskirche Ossiach
l´arte del mondo & D. Hope
So 17.7.2016 / 20 Uhr
Stiftskirche Ossiach
V. Peirani & E. Parisien
Mo 18.7.2016 / 20 Uhr
Congress Center Villach
Wiener Sängerknaben
Di 19.7.2016 / 20 Uhr
Stiftskirche Ossiach
Elisabeth Leonskaja
Mi 20.7.2016 / 20 Uhr
Stiftskirche Ossiach
Die Puppe – Open-Air-Kino
Do 21.7.2016 / 21.15 Uhr
Innenhof Musikschule Villach
Songlines – PHACE
Fr 22.7.2016 / 18 Uhr
Stift Ossiach
Altenberg Trio
Sa 23.7.2016 / 20 Uhr Stiftskirche Ossiach
Of secrets, I am silence
So 24.7.2016 / 17 Uhr
Schloss Damtschach
L'Orfeo Barockorchester
Do 28.7.2016 / 20 Uhr
Congress Center Villach
Wallis Bird – Clara Luzia
Fr 29.7.2016 / 20 Uhr
Omya Werk Gummern
W. Holzmair & S. Mauser
Sa 30.7.2016 / 20 Uhr
Stiftskirche Ossiach
Venice Baroque Orchestra
So 31.7.2016 / 20 Uhr
Congress Center Villach
Vocalensemble LALÁ
Mo 1.8.2016 / 20 Uhr
Bergkirche Tiffen
Portrait O. Adámek
Di 2.8.2016 / 20 Uhr
Domenig Steinhaus
L. Baich & M. Fletzberger
Mi 3.8.2016 / 20 Uhr
Congress Center Villach
M. Wyatt & Language 12
Do 4.8.2016 / 20 Uhr
Bamberg Saal Villach
Jesu Hochzeit – G. v. Einem
6., 9., 10., 12.,13.8. / 20 Uhr
Stiftshof Ossiach
Portrait D. Kaufmann
Mo 8.8.2016 / 20 Uhr
Domenig Steinhaus
Faltenradio
Do 11.8.2016 / 20 Uhr
Alban Berg Konzertsaal Ossiach
Tonč Feinig Trio
Di 16.8.2016 / 20 Uhr
Alban Berg Konzertsaal Ossiach
Rudolf Buchbinder
Mi 17.8.2016 / 20 Uhr
Congress Center Villach
René Clemencic
Do 18.8.2016 / 20 Uhr
Bergkirche Tiffen
African Angels
Fr 19.8.2016 / 20 Uhr
Congress Center Villach
Picknick-Konzerte
Sa 20.8.2016 / ab 11 Uhr
Schloss Damtschach
Carinthischer Musiksalon (2)
So 21.8.2016 / 11 Uhr
Schloss Ebenthal
London Symphony Orchestra
Do 25.8.2016 / 20 Uhr
Congress Center Villach
Carinthischer Musiksalon (3)
So 25.9.2016 / 11 Uhr
Das Klösterle, Innerteuchen
Carinthischer Musiksalon (4)
So 16.10.2016 / 11 Uhr
Kärntner Landesarchiv, Klagenfurt